Skywalk Getaway with Heli & Boat
What's Included:
Breathtaking views of the Grand Canyon
Flight over and views of Hoover Dam, Lake Mead and the Grand Canyon
Landing at the bottom of the Grand Canyon, 4,000 ft. below the rim
Boat cruise on the Colorado River
VIP passes to the Skywalk bridge
Complimentary Skywalk photo
Light snack included
Hotel to hotel transfers
*Note: Cameras are not allowed on the Skywalk
The Skywalk Getaway with Helicopter and Boat pairs together three of the most popular tour activities in the western part of Grand Canyon. Guests enjoy a helicopter tour from the Las Vegas area over Hoover Dam, Lake Mead and then direct to the bottom of Grand Canyon. There, a waiting pontoon boat takes guests out on the mighty Colorado River for a smooth water cruise. The river, naturally being the lowest point in the canyon, provides a visually stunning perspective of just how large the canyon is. After returning from the river guests re-board the helicopter, ascend to the rim and are, again, treated with another wholly unique perspective from the deck of the world famous Grand Canyon Skywalk bridge. A complimentary souvenir photograph and snack bag are included before heading back to your Las Vegas hotel.
Request the helicopter front seat?
Our "Front Seat Request" allows you to request the front seats of the aircraft you will be touring in. While every seat aboard any of our touring aircraft have a great view, the front seats offer a bit more privacy and utterly unobstructed photo opportunities.
The final seating arrangement on any helicopter is determined by an automated weight and balance calculator.
The balance of weight onboard a helicopter is critical for flight safety. Since safety is our number one concern it is impossible for us to guarantee you a front seat before all guests have checked in. This is why we do not charge anything to request the seats.
If the aircraft is capable of accommodating your request then the price per seat is $50. This charge is payable when your request is confirmed after check-in. We accept most major credit cards as well as cash & travelers cheque.
EC-130 EcoStar Aircraft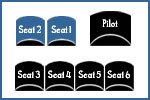 Eurocopter AS350 Family
Charge to Request: Free
Charge if Confirmed: $50.00
Full Adult Retail Price:
Product Code: PBW-4K