What's Included:
Breathtaking views of the Grand Canyon.
Flight over and panoramic views of Hoover Dam, Grand Canyon
Landing at the bottom of Grand Canyon, 4,000 feet below the rim
a unforgettable champagne picnic, 4,000 feet (1,220 meters) below the rim
Exploration time
State-of-the-art ECO-Star helicopter with luxurious comfort and wraparound windows
Multi-lingual narration
Hotel pickup and drop off
The Grand Celebration is the crowning jewel in our selection of helicopter tours and easily the most popular. It is easily the most popular and is likely to Sell-out! The tour regularly sells out weeks in advance. This helicopter tour provides stunning aerial views of Hoover Dam, Lake Mead, and of course Grand Canyon. Additionally, this tour lands at the bottom of the canyon on a private plateau overlooking the mighty Colorado River. There guests enjoy a champagne picnic and refreshment while surrounded by the awe inspiring grandeur that is the Grand Canyon. It is truly an experience unlike any other!
Tour Duration
4 hours hotel to hotel
Hotel Pick-Up
Passengers are picked up from most major Las Vegas hotels
Check In
Check-in at our state of the art terminal in Boulder City
Flight
Once in the air you will fly over the world famous Hoover Dam, which hold the largest body of water in the Southwest, Lake Mead. Then you will fly over the Grand Canyon, see Guano and Eagle points (home of the Skywalk)
Landing
Touch down and disembark at our exclusive landing site 4,000 ft below the rim of the Grand Canyon.
Exploration and Meal
Enjoy a champagne picnic and time to explore the surrounding area.
Return Flight and Hotel
Your pilot will ask you to load back onto the helicopter for your return flight. Once you are back you will be loaded onto a motorcoach and taken back to your hotel.
Comments about this Tour:
Request the helicopter front seats?
See More Information
Our "Front Seat Request" allows you to request the front seats of the aircraft you will be touring in. While every seat aboard any of our touring aircraft have a great view, the front seats offer a bit more privacy and utterly unobstructed photo opportunities.
The final seating arrangement on any helicopter is determined by an automated weight and balance calculator.
The balance of weight onboard a helicopter is critical for flight safety. Since safety is our number one concern it is impossible for us to guarantee you a front seat before all guests have checked in. This is why we do not charge anything to request the seats.
If the aircraft is capable of accommodating your request (which is highly likely) then the price per seat is $50. This charge is payable when your request is confirmed after check-in. We accept most major credit cards as well as cash & travelers cheque.
EC-130 EcoStar Aircraft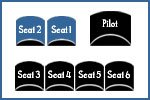 Eurocopter AS350 Family
Charge to Request: Free
Charge if Confirmed: $50.00
See Less Information
Full Adult Retail Price:
Product Code: PBW-4
Online Prices Starting At:
Fetching Prices
Starting....